I recently wrote an article about Standing: a New Model for Physical Activity. Well, if standing is better than sitting, walking is better than standing! Here at Inspired Life and Wellness, I work out of my home in a dedicated office. But the video, above, was filmed from my family room where I spend part of my day working at the desk I handcrafted for my treadmill. I'll show YOU how to create a treadmill desk in a moment.
Did you know the average American sits anywhere from 7-15 hours a day without moving? Whether we are commuting to work, sitting at our desks at work, waiting for the kids at practice or watching our favorite shows on TV at night, we spend a lot of time not moving! Regardless of whether or not we regularly go to the gym for a workout or hit the trail for a walk.
I know this certainly describes me. It wouldn't hurt me to schedule more formal exercise, but the low hanging fruit? Simply start getting up from my desk or chair, frequently, and moving more. So, I was determined to increase my steps each day. How could I leverage my work time to do that?
I Wanted to Create a Treadmill Desk
I'd seen treadmill desks before, but they're rather expensive and I figured there had to be a way to do something with the treadmill I already have. I decided to turn to my old friend, Google, and search for ways to create a makeshift treadmill desk. Low and behold, I found this brilliant woman's post for how she created a DIY treadmill desk.
I'm all about simplicity, and her plan was already very simple, but I made a couple minor modifications to suit my own tastes. A trip to a local home improvement store and about 15 minutes of my husband's time (thanks Honey) and I was walking and working in tandem.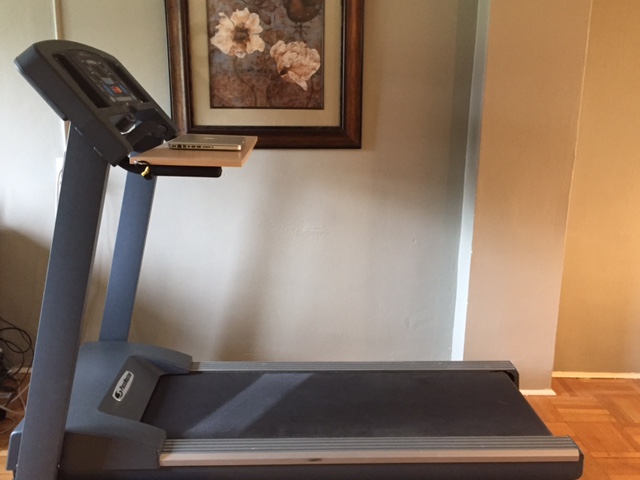 The 411 on Walking and Working
Make no mistake… I'm not going to the races when I walk and work. I walk between 1.5 and 2 miles per hour, depending on what I'm working on. But the point is, I'm moving. And that's better than sitting. Save your run for a more formal workout.
Even if I take just the conservative 1.5 miles per hour and I walk for 2 hours, that's 3 miles I walked while I was working. If I do that every day, Monday through Friday, that's 15 miles per week that I wasn't walking before. If I walk both days on the weekend, while I watch a movie or check email, that adds another 6 miles to my weekly log for a total of 21 miles! Not bad. This is multi-tasking I can do.
How to Create a Treadmill Desk
This works on a standard treadmill with handrails on either side. Here's your shopping list:
One 3′ by 1'wood shelf
Two #6 screw eyes (these are about 2″ long x 1″ eye)
One 24″ bungee cord
An electric drill
NOTES:
The wood shelves came in white, natural, and maple at my local home improvement store and one cost about $7. I chose natural.
I bought a little bit smaller screw eyes because my shelf was only slightly more than 1/2″ thick and I didn't want to split the wood. Also, you could use 4 screw eyes and 2 bungee cords for greater security, but one felt secure enough for my purposes. The shelf doesn't budge. Plus it's faster to remove when I want to use the treadmill for running.
First, use your drill to create a hole on both sides of your wood shelf (see below). If just using one bungee cord, you might place the holes in the center of each end of the shelf. If using two, space them accordingly. You'll want to set the shelf on the treadmill's hand rails and mark the shelf where you want to place the holes.
Second, screw one of the eyes into each hole.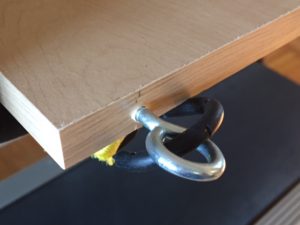 Third, place the shelf back on the hand rails of the treadmill and hook one end of the bungee cord into one screw eye and extend the bungee, underneath the shelf, over to the other side. Secure the other bungee cord hook into the screw eye on the other side (see below). Check to be sure the shelf feels secure. It shouldn't move at all.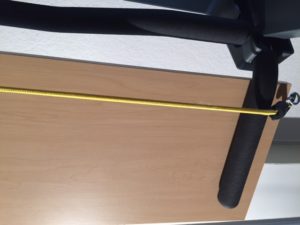 That's it! For less than $15 you can create your own treadmill desk. Super simple. You have no more excuses. Uhhh, what are you waiting for?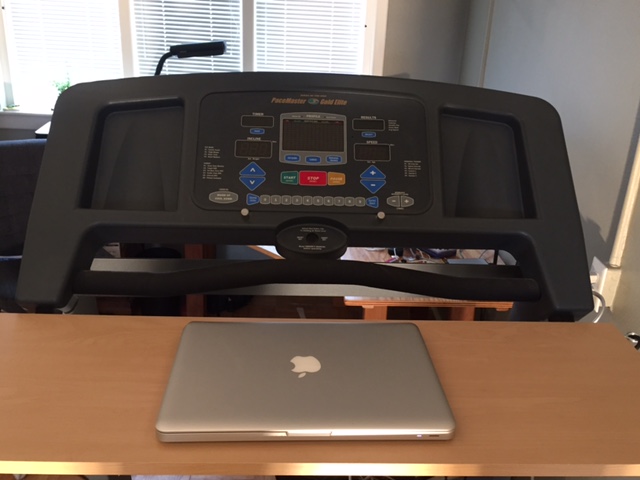 If you have questions or you use the instructions to make your own treadmill desk, share in the comments below or over at the Inspired Life and Wellness Facebook page!