To be a leader, to work in the corporate world and to be a business owner
, balancing that with the desire to put family at the forefront and to be a great mom and partner to my husband.
To work hard, volunteer, take on special projects at work, work late, work through lunches, go back to school for a graduate degree all in the name of getting ahead and getting promoted at work, knowing I'm put here to do something more and yet not being able to put my finger on what "it" is.
To lie on the bathroom floor, door locked, husband and daughter on the other side knocking, but unable to get up and open the door because
I'm too burned out from years of struggling
, trying to keep it all together.
To be a single mom who wakes up in the middle of the night, slumped over the computer keyboard, because I pulled an all-nighter to finish a grad school paper only to high tail it early the next morning for my daughter's school and my full-time career.
To stay up much too late into the night because it's the only time I can get things done or have a little "me" time.
To feel
the exhilaration of coming out on the other side
, realizing I'm strong, independent and capable, and
God gives second chances at happiness
.
To peer into the beautiful, little face of my newborn baby and know that something had to change in my career so that I could have greater flexibility to be with him and our growing family more.
To start a business on a wing and a prayer, working during nap times; working late nights after the kids were in bed; gradually increasing daycare as the business grew and became successful; and wearing nearly all the hats it takes to make a business thrive.
To feel like I no longer have time to focus on exercise unless I give up something else. The business, parenting and daily chores take up all my time. At the end of the day, there's nothing left of me.
To be an "older parent" of a teen and three young children under the age of five, feeling so sleep deprived I can hardly think straight.
To experience that hollow feeling when I discover that my parents, who were my rock and security and were always there for me, can't fulfill that role anymore and the tables have turned. It's my turn (and my brothers) to care for them, to be their rock.
To come from a family where cancer runs rampant and begin to see the parallels between my mom's health journey and my own, and not wanting to find myself in a cancer battle like she did and ultimately lost.
To feel so exhausted that there's no energy left for anything; waking up, even after a full night's sleep and still feeling exhausted; and to have a body that aches everywhere, for some unfounded reason, for months on end.
To go to the doctor and get the usual tests only to hear that everything looks normal. I'm fine. But I still feel like crud.Of course, the doctor offers to prescribe a pill for anxiety.
To feel tense and moody
, up and down, wondering what happened to that determined and accomplished woman I once was.
To suddenly start gaining weight, for no apparent reason, even though I felt like I was eating healthy.
To experience chronic stomach and intestinal cramping, feeling like I've had a steady diet of the "musical fruit" at every meal, taking off for the loo at a dead run, and worried about going places because I might not get to the throne fast enough.
Am I singing your song? Do you see yourself in any of this? Of course, we're all different in our experience, but what I'm describing here is my Type A personality, chronic overload, and a lifetime of diet and lifestyle behaviors that, over time, eroded my energy and my health. Bit. By. Bit.
I experienced… gestational diabetes, stress, fibromyalgia, adrenal fatigue, anxiety, food intolerances, irritable bowel syndrome, leaky gut, and small intestinal bacterial overgrowth (SIBO). Yeah, that's me. I've been down the road. But I got better. You can too.
I come from a family where cancer runs rampant.
My mother died of cancer following a courageous seven-year battle with the disease. I see so many parallels between my mom's early health struggles and my own. It's kind of scary, really. And while I wish I'd known then what I know now, about life and creating wellness, I also believe that
unless she found meaning in her health journey, early on, she never would have made the changes that might have helped her
.
I decided, with genes like mine, I wasn't taking any chances. Research shows that genes aren't the final word! Lifestyle behaviors have a huge effect on whether or not we develop chronic disease. When our kids graduate from college when I'm in my sixties, I want to be there! I want to be strong and active. If I live to be ninety, I want it to be a healthy ninety because I was put here for a purpose and I've got things to do! And bottom line, I was tired of feeling like crud.
I've worked with numerous health practitioners but when it comes right down to it, I needed to become a partner in my own healthcare. I asked questions. I read. I researched. I kept turning over stones and trying things and listening to my own body. I got health coach training. I committed to self-care practices such as…
Keeping a daily practice of quiet time to sit in silence, pray and meditate.
Regularly moving my body in a way that both relaxed and exhilarated me. For me that's walking outdoors with nature and fresh air.
Cleansing my body through a temporary removal of common allergenic foods, adding them back in one by one until I identified, beyond a doubt that I had food sensitivities wreaking havoc with my digestive system.
Making the switch to not only remove the foods I was sensitive to, but ditching processed foods and cooking real, whole foods that grow on a plant, graze in a pasture or swim in the ocean. Even with a busy schedule. It's possible!
Putting an end to the late-night work marathons and committing to lights out by 10:30pm whenever possible.
Taking appropriate supplements my body needed, as recommended my Functional Medicine practitioner.
Carving out time to do things I enjoy like reading a good fiction book, watching a movie with the family, a date with my husband or one of the kids, or playing the piano. It doesn't happen every day, but it happens.
Working with a coach to get really clear on my values, my purpose, how I define success, what's important to me, and what keeps me stuck.

You see, optimal wellness is about how we live, how we think, how we eat, how we move, how we work, how we serve, and how we connect with others. There were definitely some areas I was neglecting. And it happens, right? Sometimes we drift and get off course. I can help you find what works for you in your unique life.
Wellness is a holistic pursuit. It's not just about food and exercise.
It's about learning who you are, uniquely; being true to yourself; building on your strengths and passions; strengthening relationships with yourself and others; and optimizing your overall health and well-being.
Our bodies continually change and our environment and busy lives all impact our well-being. Creating and sustaining optimal health is an ongoing journey! It sure is for me. I struggle just like you. I'm continually learning how to rest my mind, body and soul; how to eat well with food intolerances; what works for me to ensure my gut feels good; to balance my life toward those things that are most important to me; and to be the best I can be. Sometimes I do it right. Sometimes I fail. But over the long haul, I keep moving forward.
You have purpose in life. There are things you've been put here to do. Important things. And it's my mission to help you create vibrant wellness through interactive teaching and coaching; so you bring your best in all you do for as many years as you've been given. I want to affirm, inspire, and encourage you to find meaning in your life and wellness journey.
My clients are individuals who want to take charge of their health and wellness to create and sustain a lifestyle that helps them achieve their fullest potential.
Are you ready? Lets do this. Let's trade in overwhelm and exhaustion, digestive issues, weight gain and anxiety. Let's trade them in for optimal health and wellness. Let's stop drifting in life and get really clear on your own definition of success, your values, and what's important to you. You CAN do this. Starting right where you're at. Schedule your complimentary session, today, to discuss your challenges and possibilities. Let's do this together in a way that works for you.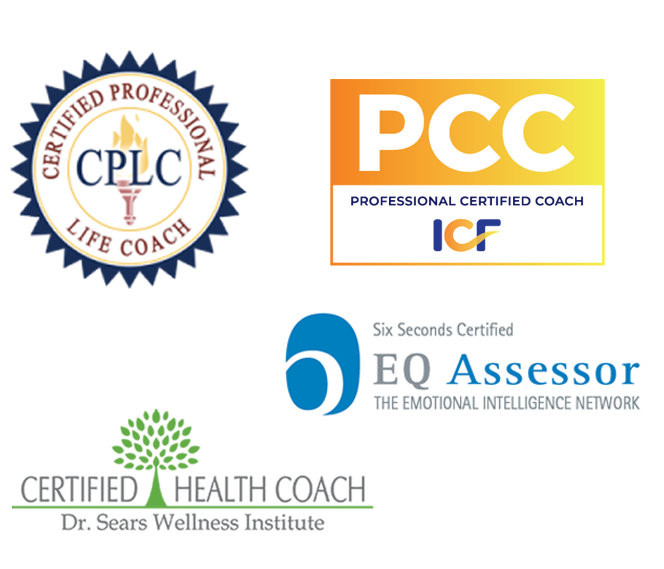 My Professional Credentials:
A Little More About My Journey to Here:
I grew up in Iowa. A farm girl. I was terrible at sports. Always picked last for teams in P.E.
But I always had a passion for healthy eating and living, exercising and being fit, and personal growth and development. [Meaning I read personal development books for fun! And I'm a self-professed personal assessment geek, i.e., DISC, MBTI, Strengthsfinder, Kolbe, Color Code, etc.]
In college, I taught aerobics classes and took courses in exercise physiology. My big dream was to run a hospital or corporate wellness program.
Life happened. The dream faded. But I did become a certified personal trainer through the American Council on Exercise. I worked in a women's health club in Chicago.
Several years later, I began a successful corporate career in Human Resources, got a Master's degree and professional certifications. Early on, I would constantly bring in ideas for how to incorporate wellness concepts into the organization and secretly hoped for an opportunity to manage a full-scale wellness program.
Promotions happened and a move to another company. A career in wellness faded into the background again.
Enter the entrepreneurial world. In 2003, I left the corporate world to start my own business so that I could have greater flexibility in my work and to be available to my growing family.
My clients were business coaches; many of them highly successful, multi-million dollar businesses. I learned all about the business of coaching, coordinated coaching programs, managed marketing and online presence, and eventually went on to provide marketing coaching and consulting to other small business owners.
But that wasn't the whole picture for me! I always knew I was supposed to be doing something else, but could never quite put my finger on it. My journey and exploration led me to get trained and certified as a professional life and leadership coach, as well as a health coach. Now I'm living within my purpose to affirm, inspire and encourage others toward growth, development, and total wellness!
I help others
live intentional lives and fully optimize their health for their success and fulfillment
as well as the families, organizations and communities they serve.
Personally, I live my life with Christ as the center and foundation, and my core values of faith, family, character, wellness, and learning/growth as my directional compass.
I live in Des Moines, Iowa, with my husband, four kids, and one impossible (but lovable) dog. I enjoy walking and bike riding, singing, reading, a good cuppa joe, and spending time with my family.