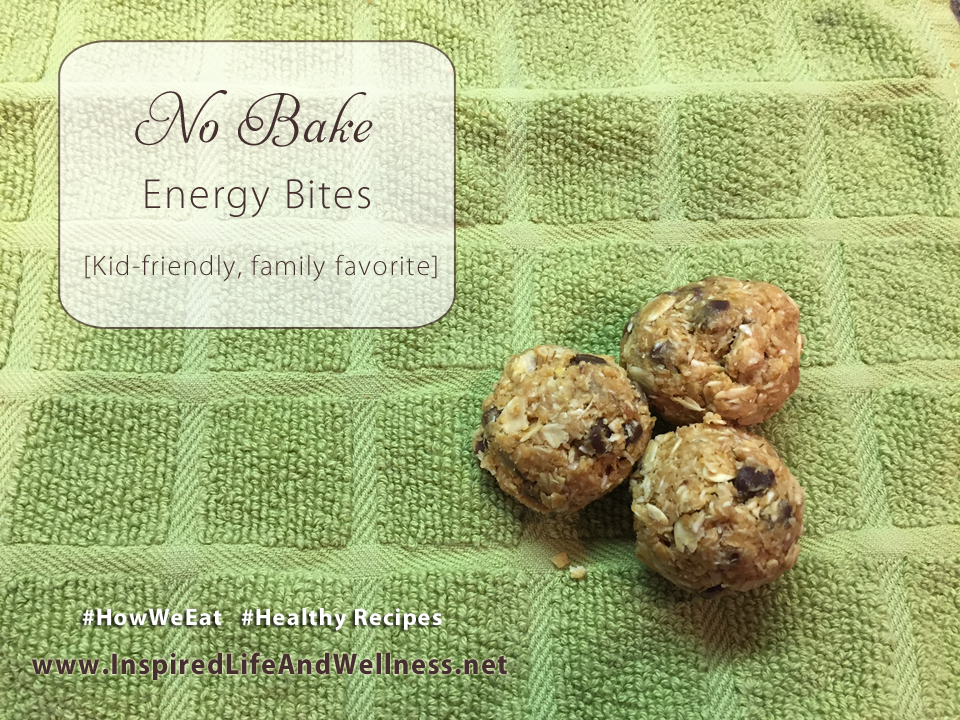 How often do you wish you could have a treat that tastes sweet and is really healthy for you? Oh, and and should it be fast and easy to put together? And do you want the kids to eat it too (because it's healthy)? Well, maybe you don't want the kids to eat it. That means less of this too-good-to-be-true treat for you.
Look no further. THIS is what you've been waiting for. Go ahead. Look upward. The clouds just parted. I kid you not.
At our house, we call these treats No Bake Energy Bites. And, yes, the kids do like them. A little too much, in fact. If I don't guard them, they'll be gone in five minutes. But it's ok. Every ingredient in this recipe is healthy and most are minimally processed. Ok, not the chocolate chips. But there aren't a lot of those. And if I'm going to eat them, they are dark chocolate, allergy-free chocolate chips.
These are so good, frankly, that our daughter requested these for her fourth grade project where they had to demonstrate how to make a dish for the class. The kids LOVED 'em! She brought a copy of the recipe for everyone, and many kids and parents shared they make these frequently.
So, don't say I didn't warn you. You might just want to make a batch in private and not tell anyone. It can be your little indulgence that is healthy, but tastes like it's not. You're welcome.
Just a few notes before I share the recipe and you start making these little gems with abandon…
If you're gluten-intolerant, be sure to get gluten-free oats. Oats are supposed to be naturally gluten- free, but the chance of cross-contamination is high, so be sure the package is marked gluten-free.
If you're unable to tolerate oats (Really? Yes, really. I can't.) substitute quinoa hot cereal flakes.
Use your choice of nut butter. Whatever your family can eat. Just buy the natural, unsweetened kind. I know, but we're trying to cut back on the processed sugar, K? Just sayin.' You'll feel satisfied with the sweet from the other ingredients.
Same goes for the coconut flakes. Buy the unsweetened kind.
If you're dairy, soy, or otherwise food intolerant, get the Enjoy Life brand allergy-free chocolate chips. Love 'em.
So, I said these are good for you. But we still don't eat them like they're carrot sticks. That's our son's favorite dream… "Mom, what would it be like if vegetables tasted like candy!?" Yeah.
Don't get me wrong. I love vegetables and I can teach you how to make them taste awesome! But never in my lifetime, or our son's, will they ever taste like a Snickers bar. Ever.
But No Bake Energy Bites ARE a healthier alternative than a lot of processed snacks. Why? You get a good carb and fiber in the oatmeal. There's protein and good fats in the nut butter and ground flaxseed. You also get a nice dose of Omega-3 fat in the flaxseed. The honey, while still a sugar, is a natural, better-for-you alternative to processed sugar.
Enjoy one with your coffee. Put a couple in the kids' lunches. Pop one or two after a tough workout. Ready? Here it is…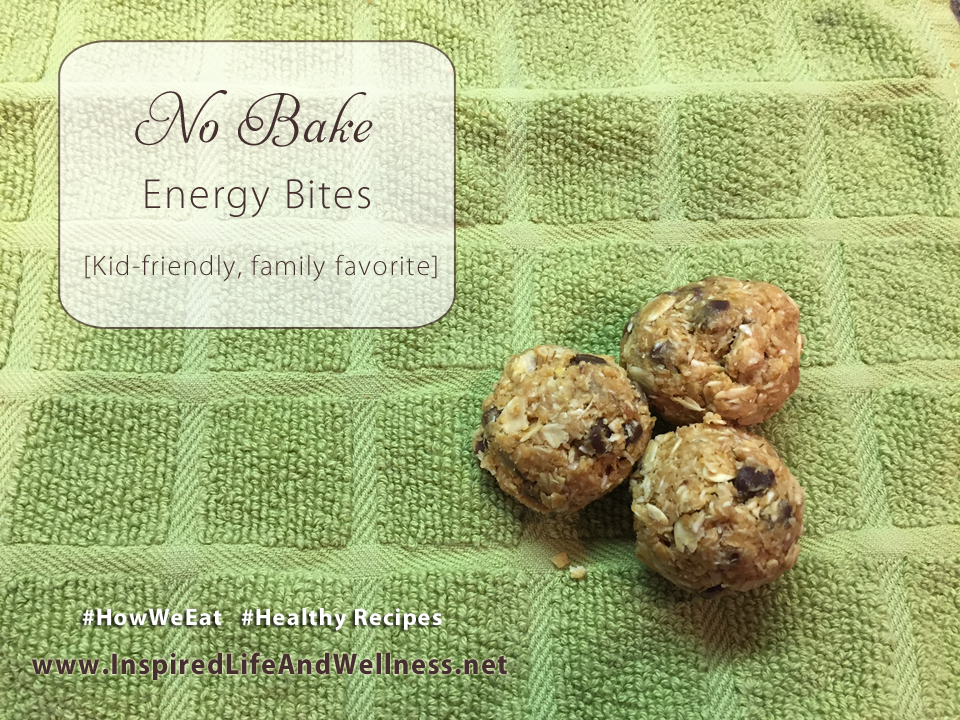 Ingredients
1 cup oatmeal
1/2 cup nut butter of choice (peanut, almond, cashew,, sunbutter)
1/3 cup raw honey
1 cup unsweetened coconut flakes
1/2 cup ground flaxseed
1/2 cup mini chocolate chips
1 tsp pure vanilla
Instructions
Measure all the ingredients into a mixing bowl
Mix it all together well (you can use a spoon, but your hands work better) 😉
Form the dough into 1" balls (I like to use a small cookie scoop)
Place the cookie balls onto a cookie sheet
Refrigerate the cookie balls for about 30 minutes, if you can wait that long
Eat and enjoy!
These store well in the frig. I put them in a Ziploc bag.
http://juliesmithcoaching.com/no-bake-energy-bites/
© Julie Smith & Inspired Life & Wellness